7 Reasons Why You Should Invest in Glory Fashion eCommerce PSD Template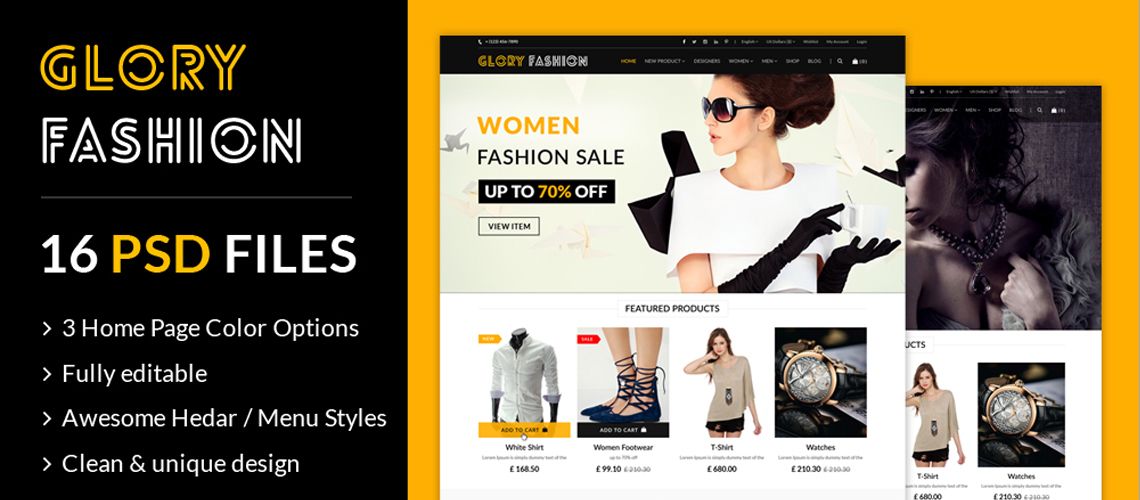 GLORYWEBS has launched the Glory Fashion eCommerce PSD template – a multipurpose theme created by web design experts and based on a grid system, made to work with WordPress, but also with other content management systems such as Joomla. We will give you seven reasons why this is probably the best template you've come across:
1. Stylish, eye-catching design elements
The chic factor makes a quick and lasting impression. The visitor is greeted by a large stunning header (which can showcase your latest promotional offer, announce a season sale, etc.) bordered by a very intuitive menu.
2. The user experience
The site sections create a friendly and dynamic online shopping experience that will satisfy the most exigent of customers.
3. A practical solution for businesses
This is a template made to support online businesses and help style up their brand image. It is also designed as a highly practical solution for online retailers, big or small. Glory Fashion can integrate various eCommerce solutions, so you can easily set up the web store of your dreams.
4. Ultimate flexibility
It doesn't matter how many products you sell or how vast the range is – the template will accommodate everything. In addition, it will respond to any screen and browser, thanks to its scalability. This enables your customers to visit your site whenever and however.
5. A perfect package
Glory Fashion is a contemporary responsive template that lets you edit every page and layer to make it suit your brand identity and convey the style you have in mind. It has the following features:
3 Home Page color options
16 PSD files in the package
1366 px full width
Stylish menus and headers
A unique clean design
Is fully customizable
6. A prerequisite for business growth
With the Glory Fashion eCommerce PSD template you can grow your business in many ways at once: through direct sales, announcements, promotions and blogging. Glory Fashion is indeed excellent for blogs. In fact, you can have the best of both worlds: focus on relevant and attractive content, plus offering your visitors a store they can easily purchase from.
7. Ideal for fashion brands
As the name implies, Glory Fashion is oozing style – it is a template made especially for companies selling clothes and accessories.
This could be the template you were looking for. Its incredible versatility and consistent style make it a coveted creation matching the demands of web-based businesses worldwide.
PREVIOUS POST
10 Reasons Why You Should Hire a Wo
NEXT POST
15 Must Have WordPress Plugins and